Kimberley Hole
Another freak of
nature
is the Kimberley hole, this is a freak of nature on the hole, it also includes the world's weirdest hole.
Kimberley Big Hole in South Africa.
This hole reached a depth of 1097 meters and the diameter of this hole is 463 meters long.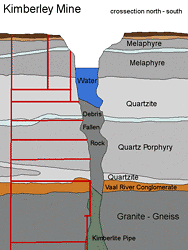 Beginning of this giant hole is the result of human excavation of 1866 to 1914, then shut down the government.
I myself do not know the reasons for the government to close these holes.
As many as 50,000 miners have been digging this hole and produces over 3 tons of diamonds.
The amount of land is wasted by mining an estimated 22.5 million tons.
source:
http://unique.shootrun.net